The FCC authorized a Low Power FM ("LPFM") broadcast service in 2000. It was intended to serve as a local, non-profit broadcast service. There are some 800 LPFM stations licensed today, providing original and uniquely local programming to communities around the United States. LPFM stations are authorized to broadcast at 100 watts of transmitter power. Depending on terrain that is enough power to cover a medium sized community or a big city neighborhood. LPFM stations are licensed from 88 MHz to 106 MHz on the radio dial, and can be heard on conventional FM radios in the car, at work or at home.
Applicants must be local to the service area, and must be a non-profit entity. Individuals may not apply. An organization is limited to one application and then one license only (two for Tribal entities). No filing fee is required, but a great deal of work and expertise go into making a good application. An application cannot be fixed later, and it can be rejected if there are flaws when it is filed. The elements regarding basic qualification (the FCC applicant or "entity"), engineering (transmitter site and frequency), and point system factors all need to be worked out and documented in advance.
the entity
The applicant should be a non-profit organization or existing community group with an educational purpose, a school of some sort, or a local governmental entity (library, fire department, etc.). Individuals may not apply for Low Power FM licenses.
Legal Pointer To qualify, the organization, school, church or whatever should be legally recognized by local or State government (for instance, County Recorder or Secretary of State).  This needs legal review.
The headquarters must be within ten miles of the transmitter. Outside the Top 50 markets it can be 20 miles from the transmitter. If you have a regular meeting place for your organization and meet there monthly, that should do fine. Aunt Hattie's spare bedroom or attic might not cut it.
Power Tip As far as the ten miles, do not guess. This distance must qualify or the application can be dismissed.
Without a headquarters, an entity may still qualify if 75% of its board resides within ten (or twenty) miles of the transmitter.
Power Tip Do not qualify using board residence if you don't have to. Board members may later move from the area or be run over by a street car. Or a board member might have a qualifying defect (felony conviction, pirate radio background).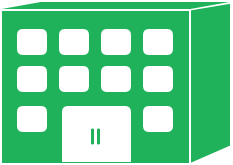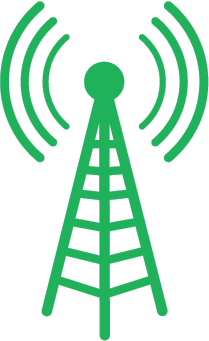 THE TRANSMITTER SITE
The transmitter site must be suitable for Low Power FM and available. Generally higher is better, with line-of-sight to the target community. You can't specify a site in the wilderness, a National Park or State Park, or where there is no access to electrical power. You can't assume any radio tower you see can be used. You need permission. Make sure you are dealing with someone who has actual authority to speak for the owner — this must be settled before the application is filed.
Engineering pointer The telecomm consulting engineers know how to find towers and tower sites. They know how to analyze a tower site for effectiveness and whether a Low Power FM can co-exist with other facilities on an existing tower. They know generally where a new tower can be built, under FCC and FAA regulations.
Legal pointer Site availability should be confirmed with the site owner in writing, and the language can get technical. If you lack permission, your application will likely fail. The site also needs to be free of environmental, zoning or building code problems.
WHAT IS THE FREQUENCY
The radio frequency band for FM is crowded, and new applicants must avoid interfering with existing broadcasters who are legally protected against interference from newcomers. The FCC has a "channel finder" utility to make a preliminary search for a channel.
Read the instructions and disclaimers carefully. To use the channel finder, you need a set of geodetic coordinates for the transmitter location, down to the nearest second. Then you are permitted to ask the program to consider, or ignore, facilities that are two channels above or two channels below (the "second adjacency"). You also can ask the program to include or ignore intermediate frequency channels, plus or minus 54. Try it every which way.
Power Tip It's very easy to make a mistake with coordinates. If your coordinates are wrong, your application may be dismissed. The FCC uses an older basis for coordinates, NAD27. Some GPS devices use a different set and you need to convert. Generally coordinates extracted from Google Earth are in line with FCC usage and are good for this purpose, but everything should be double-checked.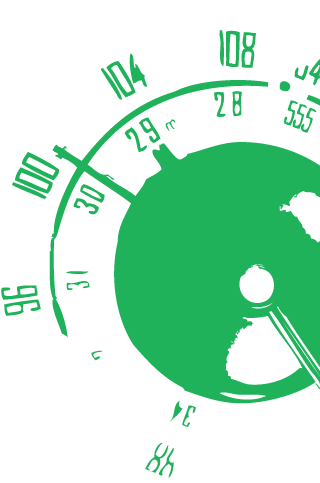 To try the Channel Finder, we used the coordinates for the Bronx Zoo 40-51-15 N Lat., 73-52-40 W Long., and got this: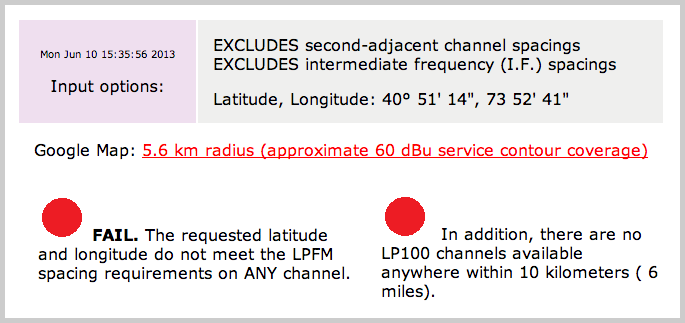 source: FCC Channel Finder
So we tried the coordinates of Fort Leavenworth, Kansas: 39-21-14 N Lat., 94-55-20 W Long. That's a different story and, by the way, a nice small town situation ideal for Low Power FM: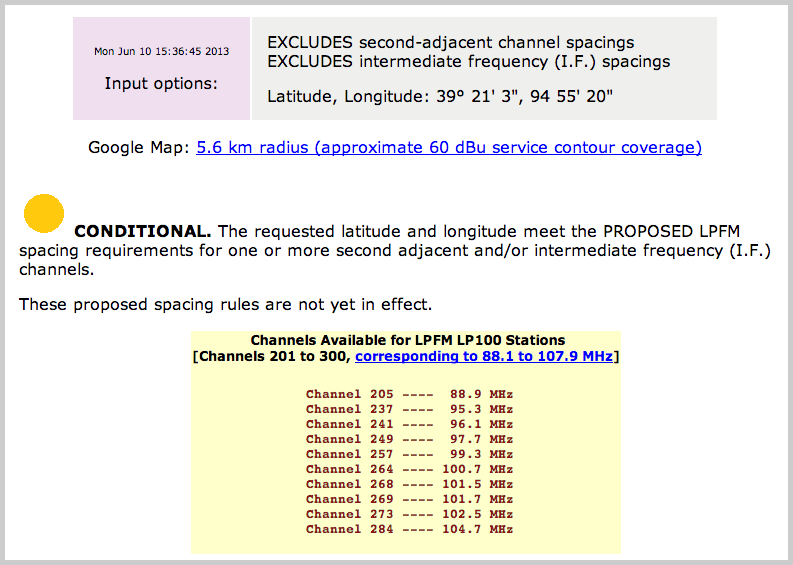 source: FCC Channel Finder
Engineering Pointer The telecomm consulting engineer can take a horrible case like the Bronx Zoo and use a bag of engineering tricks to possibly find an available frequency anyway. In largest markets, you will definitely need an engineer. in congested areas at best the channel finder will find just one or two channels. These will be sure to attract multiple applicants. If your engineer can find a channel that the channel finder does not recognize, there may be far fewer applicants, giving you a better chance. In smaller markets, using our Leavenworth example, you could just draw straws to select one of the ten channel. But a wiser approach would be to ask the engineer whether they see any latent defects to any of these channels, and to recommend which one or ones might be the optimum.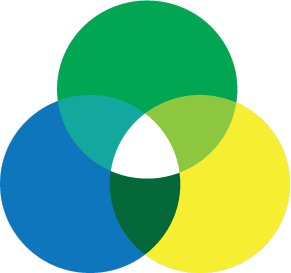 COMPARATIVE FACTORS
Anywhere you decide to apply, there will likely be others looking at the same opportunity. Remember there is big pent up demand because the FCC has not opened a LPFM filing window in twelve years. To give yourself the best shot at success, you need to know how the FCC will resolve conflicting application groups.
Conflicting groups will be resolved through a point system. The applicant(s) with the most points wins. Three (3) points are awarded based on the applicant's status when they apply. Three (3) more points are awarded based on promises of future performance made in the application. Applicants tied for the most points will be given an opportunity to enter into settlements. If no settlement is reached, the FCC will award the license to the top three tied applicants on a rotating basis, based on the longest tenured among the "established local applicant" claims.
how the point system works
THE THREE STATUS POINTS
Local = One Point. A local applicant is one with at least two (2) years of continuous existence and a headquarters, or 75% of board members residing, within 10 or 20 miles from the proposed transmitter site.
New Entrants = One Point. Here the applicant certifies they do not and will not have any attributable broadcast interests. Cable and internet radio stations are not counted against the applicant.
Tribal applicant = One Point. This means 51% control by a Native American Tribal Nation. The transmitter should be on Native land unless a waiver request is submitted. Tribal Applicants often, but not always, will be on Tribal Lands in rural areas.
THE PROMISE POINTS
Local Origination = One Point. Here the applicant promises to provide at least eight hours a day of "locally originated programs," i.e., programs created within 10 or 20 miles of the transmitter.
Main Studio = One Point. The applicant promises to establish a main studio, staffed, publicly accessible and actually providing programming at least 20 hours per week from 7 a.m. To 10 p.m.
Bonus Point = One Point. If you offer both the Local Origination promise and the Main Studio promise.
Power Tip In any sizeable urban area, say population of 200,000 and up, you must make all these promises or you definitely will lose out to other applicants.
Legal Pointer The important thing about all points claims is that defective claims, or flawed paperwork in support of a claim, cannot be repaired later. These can sink an applicant and many have failed this way. The best assurance of maximum possible points is a legal review of the application before it is filed.