Michael Couzens and Alan Korn are San Francisco Bay Area lawyers who specialize in community radio. In 2007, we saw the filing window coming for new, noncommercial educational channels. Many prospective applicants were new to broadcasting and, especially, to the vagaries of trying to run the rapids of an FCC regulated application and licensing process. We had worked extensively with telecommunications consulting engineers, and both the engineers and we recognized that a successful application needs both kinds resources — engineering and legal.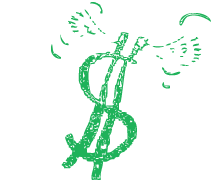 Problem was, on the legal side the reputation of the legal profession preceded us, not always just glowing tributes, and folks were having trouble making budgets or assessing what an LPFM project would cost just based on hourly rate quotes. We decided the best thing was to offer to prepare an application and place it on file for a low fixed price. We would promote that service using the catch phrase Discount Legal.
The approach was extremely successful, and with little or no outreach, clients found us. In a crash program for the 2007 window, we ended up filing 92 FCC applications. The fixed price averaged out over the easy cases and the difficult cases, and paid for the legal work and overhead. No one got rich, but best of all quite a few applicants got construction permits, went on the air, and are providing important local community services today.
From this experience, we decided to reprise Discount Legal for the Low Power FM window. See how we work with clients.
Here are some of the folks we helped last time around:
Michael Couzens
Michael Couzens is a community radio and television advocate based in Oakland, CA. He is a lawyer with more than 30 years experience practicing before the Federal Communications Commission. He is admitted to the bar in California and in Washington, D.C. As an attorney-advisor on the staff of the Federal Communications Commission he developed the rules for low power television. He represents existing and future community stations throughout the United States, including planning and creation of non-profit entities, advising on FCC requirements and addressing applications, licensing, and compliance issues. He teamed with Alan Korn in the 2007 filing window to submit a wave of applications for new noncommercial educational FM stations, several of which are now on the air.
Michael has taught communications law at the University of California and at San Francisco State University. He regularly participates in industry and public interest seminars and workshops. He is an ardent bluegrass music listener, and can be found attending festivals involving acoustic instruments every Summer, East and West.
Alan Korn
Alan Korn is an attorney based in Berkeley, California with a law practice emphasizing communications, first amendment, music, film, art, photography, Internet, entertainment and intellectual property issues. Alan's practice includes both transactional work and litigation. He has also represented dozens of Low Power (licensed and unlicensed) and full-power NCE FM stations since the early 1990s. Alan was one of the earliest legal advocates for creation of an authorized Low Power FM service.
Alan also lectures extensively on copyright law, and he is featured in the documentary film Sonic Outlaws by Craig Baldwin (1995) addressing fair use issues arising at the intersection of copyright law, free speech and artistic expression.